Declaration
Say these words in faith and agree with God's Word...!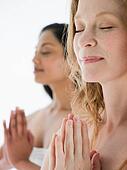 Father, in the Name of Jesus I declare
I am saved and forgiven of all of my sins through the blood of Jesus.
I am a child of God and I have the breath of God in me.
I agree with Your Word that I was made for the man and man will find me because he has Your breath in his nostrils.
I am anointed with Your spiritual and Heavenly fragrance.
I thank You for the institution and gift of marriage because You made me a wife.
This I declare in Jesus' Name... Amen.
Excerpt from "The Spiritual Fragrance of a Woman" by Jerone L. Davison